News
Your system efficiency in our focus: The new 7G300 injector
Would you like to know more about our new products? You will find all the important information about innovative products from emtechnik here.
Product news
Your system efficiency in our focus: The new 7G300 injector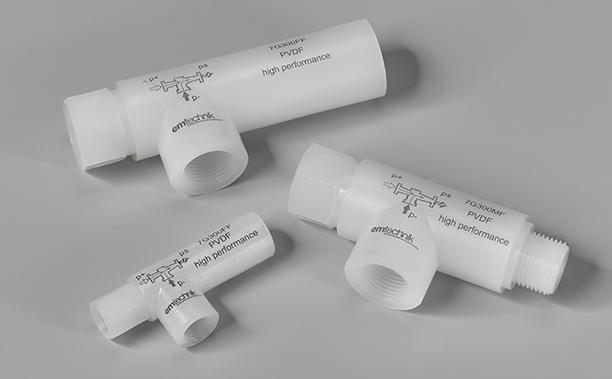 Oour injectors stand for absolute reliable and efficient delivery and mixing of two media.
The basic principle is simple: a gaseous media is used for the actuator; this media escapes at high pressure and high speed from a nozzle. During this process the media from the surrounding area is also drawn along and can be supplied to the downstream production process.
Your system efficiency in our focus
For years we have been observing the constantly growing demands for energy efficiency in companies in order to minimise environmental pollution and reduce operating costs. With our new 7G300 injectors we want to meet these requirements.
Compared to its predecessors, our new product range is not only convincing with a doubling of the volume flow drawn in, but also with a balanced ratio of suction medium to propellant medium, which results in a higher and more even flow.
By optimising the size and length ratios of our injector nozzle, we have reduced propellant gas consumption by 30% compared to previous models. This not only has a positive effect on your energy balance, but also leads to an effective cost reduction.
New design
Especially when using highly aggressive media, in the past our customers had to rely on the use of an O-ring made of FFKM.
By integrating several components into the new nozzle design, it is now possible to seal using emtechnik's own sealing collar. This reduces the number of versions in our new product range and also leads to a significant price advantage if an FFKM O-ring is omitted.
Thanks to their new design, emtechnik 7G300 injectors now manage without sealing materials and, as usual, without moving parts, making them low-wear and robust.
Learn more now!
Back to overview