Under his management the company has consistently moved forward with the development of precision fittings and high-performance connectors while establishing itself international internationally. In line with this we have strengthened our investment in foreign markets.
With subsidiaries and commercial agencies in Europe, Asia and the USA, we consult with and support our customer directly on site.
To guarantee the high standards of quality and safety, we produce about 3 million items a year exclusively in Maxdorf. emtechnik will also retain this German production site in the future.
Our philosophy
For emtechnik, customer satisfaction takes centre stage. The company places great emphasis on solid training and promoting young people. This serves as the basis for long-term business success and the sustainable development of the company.
Locations - on site worldwide
We're there wherever you need us. With subsidiaries in Belgium, France, Great Britain, Holland, Italy, India, Oman, Singapore and Taiwan, and as well as our representatives in Finland, Sweden, Spain and the USA, we provide direct local advice and support for our customers. If you have further questions or would like additional information, simply contact us. A good partnership for us always starts with a personal conversation.
Contact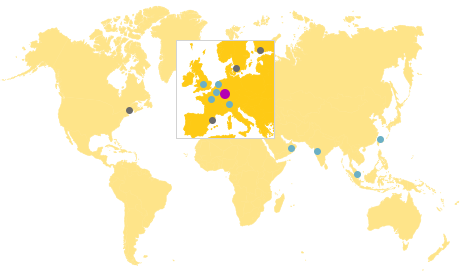 Sustainability
To make our contribution for following generations, we not only use regenerative energy sources, but also follow a consistent concept of sustainability. Consistent conservation of resources also plays a role here, as does social responsibility and production which is nearly CO2 neutral.