Dialysis Application
In this example the dialysis agent is supplied to the dialysis device via a precisely controlled electrical ball valve. If necessary the agent can be filtered at the same time. Series 7F filters provide different filter grades for this purpose. Reliable Luer-Lock adapters can be used to supply the dialysis device and remove used dialysis agent.
em

technik in practical applications

Machines with FDA-compliant production are required to produce cold wax strips for hair removal. Often metal parts are used, however, which do not comply with this requirement and must be replaced. It has been difficult to exchange them until now because the applications could not simply be disassembled. With plastic products from emtechnik (Tri-Clamps, nuts and ball valves), the application can become "soft" by using connectors and flexible tubes made of PVDF, PFA and PTFE, which are FDA-compliant and easy to disassemble.

Another advantage is that this weakens the vibrations of pumps. Dosing pumps pulsate through the diaphragms in the application and, depending on how large the flow is, the dosing pump moves (vibrates) faster or slower. The faster the pump moves, the greater the flow. This increases the probability that the fixed application would "break". To prevent this, rigid pipes should be replaced with flexible tubes from emtechnik.
FDA-compliant production
Clean in Place safely with
em

technik

Today CIP cleaning is considered a standard cleaning method for production systems in the pharmaceutical industry. This is a process that cleans the interior of pumps, vessels, process equipment, filters and fittings without prior disassembling, opening or manual involvement. emtechnik connectors are integrated in many cleaning systems due to their high resistance to media and ensure the safe supply and removal of chemical cleaning agents – even where connectors made of stainless steel would already have been corroded long ago and would have to be replaced.

emtechnik offers suitable connectors for any type of cleaning process: Our products made of PVDF and PFA are also suitable for hot steam sterilisation, the indispensable requirement for absolute sterility. PVDF is also autoclavable with no concerns at 134°C. PP and PEEK can be sterilised with γ radiation while fully retaining their mechanical properties (maximum dosage 25-50 kGy). PVDF is non-toxic in the range <150°C and does not provide any breeding ground for microorganisms. The surface of PVDF behaves very similarly to glass.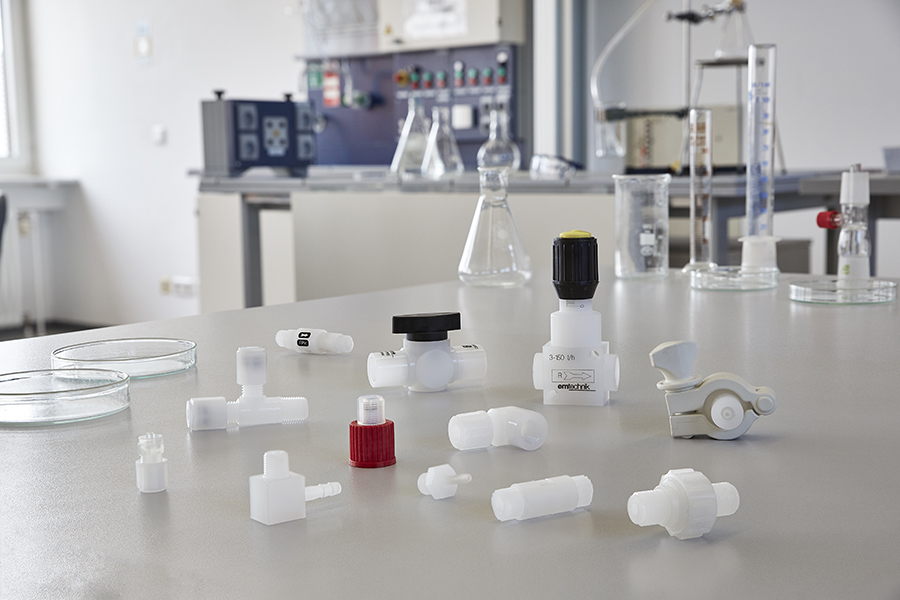 High resistance to media and product reliability