Disinfecting System
Water is directed here through a disinfecting system and further through a flange, flow meter and filter to the water removal system. The flow of water can be turned off if necessary by using a ball valve. Water quality and pressure are continuously measured by means of a simple integrated bypass.
Thermal Centres and Corrosion Test
Thermal baths are used as wellness oases and are beneficial for health. Problems with circulation, the respiratory system and ENT conditions can be treated here as the water has a very anti-inflammatory effect. emtechnik products resistant to thermal water can be installed in the systems used for oral or ENT treatments. In practice valves and ball valves are used, for example, to be able to ensure a precise and simple flow control of the water. Here the patient can control the flow himself.
The use of plastic connectors and fittings in the systems intended for corrosion tests is also conceivable. The procedure is used to examine products according to criteria relevant to climate and weather. Here extreme temperatures and humidity, fast temperature fluctuations and corrosive atmospheres are simulated in climatic chambers.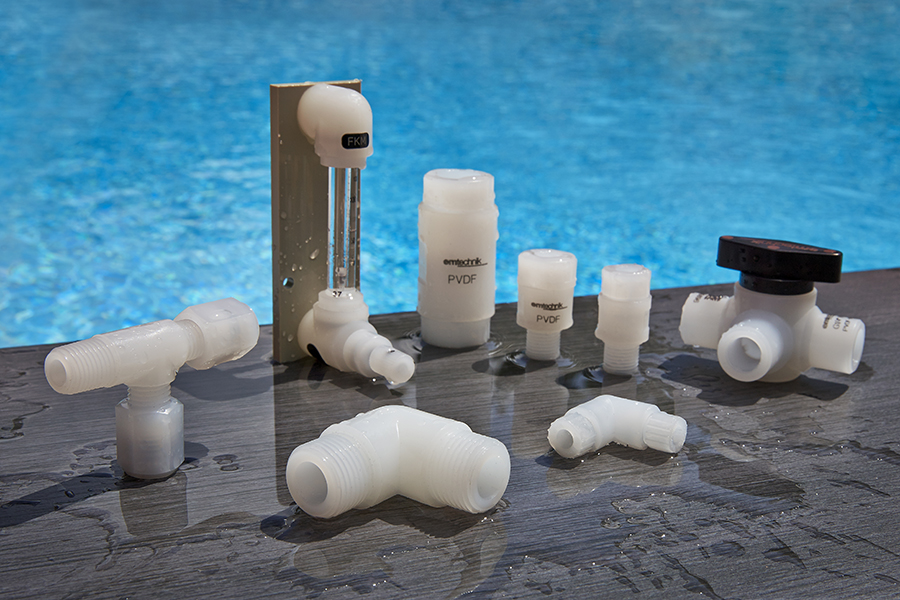 Plastic connectors and fittings in the systems intended for corrosion tests